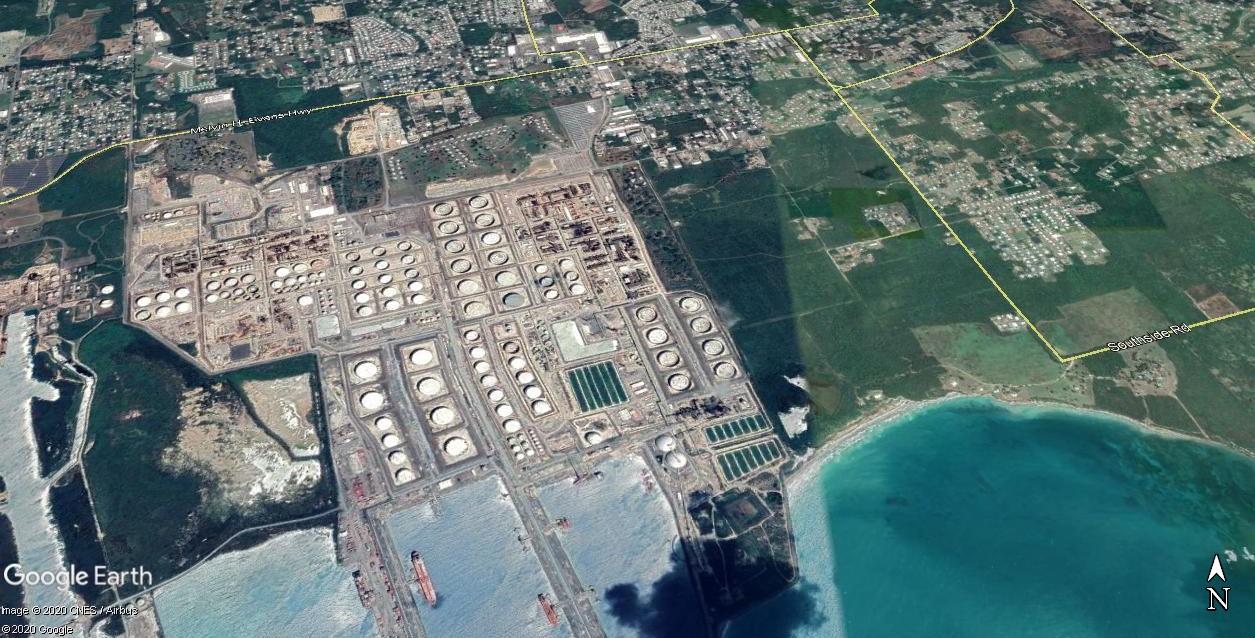 --2017 Defense of International Distiller in Response to Worldwide Class Action Litigation. The largest international producer of spirits (126 million cases per year) was alleged to have failed to prevent alcohol vapors from its production and storage facilities around the world from "staining" houses and adjacent property. Two critical, major motions were filed, a Motion to Dismiss and a Motion to Strike Class Allegations -- followed by numerous clarifying submissions. Those efforts resulted in a June 2, 2017 stipulation by plaintiffs, effectively throwing in the towel, conceding "[p]laintiffs' allegations in their original complaint and proposed Amended Complaints are futile with respect to the proposed class allegations. Therefore, all proposed Amended Complaints are withdrawn. Further, all class allegations in the original complaint are withdrawn. . . .there has been no consideration of any kind paid to the named Plaintiffs."
--2018-2022: More re Emergency Injunction as to Partnership Control & $43 Million in Cash, after Remand from Fed Court. For the past eight years, two sides have been locked in a series of cases over ownership and control of a partnership with almost $43 million in after-tax cash plus businesses with yearly sales in excess of $100 million. This began in 2012, when the 'Yusuf faction' tried to take over and throw the 'Hamed faction' out of the jurisdiction's second largest private employer, claiming the closely held Yusuf 'United Corporation' owned the businesses rather than a Yusuf/Hamed partnership. First the federal district court granted the Hameds' motion to remand the case back to the trial court. Hamed v. Yusuf and United Corporation. Then, on April 25, 2013, that trial court entered a sweeping preliminary injunction finding the corporate defendant's president lied under oath -- and granted all requested relief. All accounts were returned to joint control and the Partnership rather than United was found to control the businesses.
The President of United Corporation testified under oath that he used the $2.7 million withdrawn from the...operating account to buy 3 properties....On the second hearing day, [he] contradicted his prior testimony and admitted that those withdrawn funds had actually been used [otherwise].
On July 9, 2013 that preliminary injunction was argued before the appellate court, which then upheld the injuction in a sweeping 24-page decision. Hamed v. Yusuf I. On July 22, 2014, the trial court judge filed an opinion confirming a critical lease of one of the disputed facilities and functional control of its landlord corporation to the Hamed faction. Hamed v. Yusuf III. Finally, on November 7, 2014, summary judgment was entered for the Hameds:
ORDERED that the Court finds and declares that a partnership was formed in 1986 by the oral agreement between Plaintiff and Defendant Yusuf for the ownership and operation...with each partner having a 50% ownership interest in all partnership assets and profits....
To effectuate the distribution, Judge Brady followed up with the Court's Order Adopting Final Windup Plan dated January 7, 2015--dividing the major assets 50-50. Although the Yusuf faction filed last-second attempts to have both the trial court and the Supreme Court stay or reverse the division of the assets--both ruled against them on the same day. On February 27, 2015, the Supreme Court dismissed the appeal for lack of jurisdiction in Hamed v. Yusuf IV, and the Superior Court denied the stay, noting the pace of the litigation:
Any delay in achieving final resolution impedes the Court system as the filings of these parties have been prodigious in volume and frequency. . . .
On March 9, 2015, the two largest businesses were separated, with one going to each of the two original partners. The Hamed faction eventually purchased the third largest business from the partnership.
On July 25, 2017, The Court entered an extensive consolidated order (Hamed v. Yusuf V) which had, as its most important effect, obviating the Yusufs' many pre-2006 claims, stating: "Therefore, the Court exercises the significant discretion it possesses in fashioning equitable remedies to restrict the scope of the accounting in this matter to consider only those §7l(a) claims that are based upon transactions occurring no more than six years prior to the September 17, 2012 filing of Hamed's Complaint." The Yusuf faction sought reconsideration as to Judge Brady's order or certification of an immediate appeal to the Supreme Court, but both were denied. As the Yusufs became even more desperate, in late-2017 they attempted to disqualify one of Hamed's two principal lawyers solely because he had hired one of the Court's clerks as an associate attorney. This too was denied.
By 2018, the Court-appointed Special Master (retired Judge Edgar Ross) began to hear some $60 million in additional claims that remained between the parties after the main assets had been divided. The proceedings are so complex that the parties not only provide the Master's salary, but also fund a separate judical clerk for the Master, and the claims process has its own electronic docket -- relieving the strain the case had been placing on the court system. In one of Judge Ross' first of these "claims" decisions he denied the Yusuf-controlled corporation's motion for past rent on one of the major businesses that would have increased that rent five-fold and resulted in a judgment of over $7 million. The Special Master was extremely direct in describing the Yusuf faction and their claims: "[T]he evidence and facts surrounding Yusuf's action through United...demonstrates a transaction prohibited by law and tainted by a conflict of interest and self-dealing."
In 2019, the Special Master has awarded Hamed the following: $2.7 million for funds taken by United and Yusuf; $800,000 for Yusuf's failure to pay Hamed for the sale of condos in Dorothea. He also entered an order rejecting Yusuf's motions filings for inadequate factual recitations and granted three motions to compel Yusuf/United responses in discovery. In December he denied Yusuf summary judgment as to $1.2 milliion in interest on past rents, and then dismissed the claims by granting summary judgment for Hamed.
It should also be noted that a similar summary judgment issued in a parallel case brought by United Corporation as one of several additional (failed) counter-actions initially intended to be SLAPP-like 'Scorched Earth' litigation. United Corp. v. Waheed Hamed. In 2016, the Supreme Court reversed this on procedural grounds and remanded the case to the trial court for further findings -- at which time the case was dismissed in the Hameds' favor. The Yusufs' mulitple-case, Scorched Earth litigation failed. It is therefore quite ironic that on August 8, 2017, the Yusuf Faction filed papers in the main action complaining that the Hamed Faction was now being oppressive: "This case is just one of several cases recently filed by the Hameds as part of their litigation "blitzkrieg" against the Yusufs."
--2022 Petition to U.S. Supreme Court Against the Third Circuit Court of Appeals for Its Mistreatment of a Lawyer in a Disciplinary Matter. Without a hearing, the ability to question anonymous witnesses or specific charges, the judges of the Third Circuit, sitting en banc as the District Court, disciplined an attorney. When this action was appealed, those judges ordered the district court clerk to not docket or process the appeal--a clear violation of the federal statute allowing such appeals. Moreover, the Third Circuit (this time sitting as the Third Circuit) refused to hear the denial of an appeal via a writ of mandamus. (One of the judges sat on both the lower and upper court decisions.) A petition for certiorari was filed to the U.S. Supreme Court. In the interim, the local Supreme Court has been advised by the Board of Professional Responsibility to not process the issue locally until this matter is heard.
--Recovery of $12 Million in Art from Athens, Greece in New York Federal Court Action. More than two-hundred works of art (including a number of Rothkos) were bequeathed by a famous Greek-American artist to his elderly sister who is a New York City resident. The artist, Theodoros Stamos, was the youngest of the original group of abstract expressionist painters (the so-called "Irascibles"), which included Jackson Pollock, Willem de Kooning and Mark Rothko -- and was the executor of Rothko's estate. Following Stamos' death, from 2006 to 2010, the sister loaned those items to a prominent Greek stock brokerage owner and art collector, Zacharias Portalakis. In reliance on Defendant's representations he would build a wing in a private museum to display the loaned works, he was provided with the art (as well as certain copyrights for the purpose of allowing him to create a catalog raisonne.) With these in hand he then claimed to have the worldwide right to "authenticate" the artist's works.
It was undisputed that the "Stamos Wing" was never built. In 2011, the sister asked for the return of the works. While the Defendant initially agreed to the return, in early 2012 he suddenly made the claim that he owned all of her art. He attempted (by filing several actions in Greek courts) to prevent the sister (and the U.S. Courts) from recovering the works. In response, the sister filed suit in federal court in Manhattan where the jurisdiction of the U.S. Courts was highly contested (as the Defendant had never been to the United States.) In the end, however, an extensive brief regarding that jurisdiction was filed before Judge Victor Marrero in the Southern District of New York, resulting in the return of all but 4 of the items, an agreement stopping any further efforts to "authenticate" any of the artist's works not owned by Defendant -- and the cancellation of all of his alleged licenses/assignments of copyrights.
--2008-2022: Environmental Consent Decree following a $28 Million Federal Jury Verdict under Delaware Law. In 2002 a sophisticated. Boston-based 'brownfields' developer purchased a 1400 acre industrial facility from a subsidiary of Alcoa World Alumina (SCA). The site, which boasts its own deep-water port, power generation plant and other industrial assets, had been operated since 1967 by successive owners (including companies owned by Lockheed Martin) for refining alumina from bauxite ore. The purchaser (SCRG), later found that a 65 acre "red mud" bauxite residue area had significant problems related to hidden materials and past failures. SCRG filed suit in 2004, and for years the parties waged a battle of discovery, depositions and motions. Alcoa World Alumina and its subsidiary SCA were represented by two large firms: Hunton & Williams and Ogletree Deakins. SCRG was represented by a small team of lawyers who took over the stalled litigation in 2008: Joel Holt, Carl Hartmann and Kimberly Japinga -- with the assistance of Minneapolis environmental attorney Jeffrey Sepesi. This culminated in a January 2011 federal jury trial under Delaware law, presided over by the legendary Chief Judge of the Eastern District of Pennsylvania, Harvey Bartle. In SCRG v. SCA, (January 20, 2011) the 9 person jury awarded SCRG more than $28 million -- for fraud, breach of warranty and negligence. $6 million of this was punitive damages.
On May 31, 2011, the trial judge upheld that award of $6 million in punitive damages noting the "outrageous" actions of SCA and Alcoa World Alumina's senior officials:
SCA challenges the jury's award of $6,142,856 in punitive damages. Under Delaware law, a jury may only award punitive damages "to punish a party for outrageous conduct and to deter a party, and others like it, from engaging in similar conduct in the future." Delaware Pattern Jury Instructions (2010); see also State Farm Mutual Auto. Ins. Co. v. Campbell, 538 U.S. 408 (2003); Tackett v. State Farm Fire and Cas. Ins. Co., 653 A.2d 254, 265–66 (Del.1995). There was sufficient factual basis of SCA's hidden misrepresentations and the involvement of top officials at the company to sustain the jury's finding that the fraud was "outrageous." The punitive award is less than fifty percent of the compensatory damages and bears a "reasonable relationship" to the harm SCRG suffered. See Philip Morris USA v. Williams, 549 U.S. 346, 352–53 (2007). There is no basis on which to overturn the jury's award of punitive damages.
St. Croix Renaissance Group LLLP v. Alcoa World Alumina and St. Croix Alumina LLP, 2011 WL 2160910 at 25 (D.V.I. May 31, 2011).
A second part of this same situation involved a half-dozen suits, plus many counter-suits and third party actions. These were brought by the government and the Environmental Trustee against SCRG (as the present owner) and all of the prior "operators" of that same industrial area. The two largest actions were brought in federal district court (also before Judge Bartle) under CERCLA and other environmental laws. These cases began in 2005. On February 13, 2012, Judge Bartle issued a decision approving a Consent Decree between the Government, the Trustee, Alcoa World Alumina, St. Croix Alumina (the same Alcoa World Alumina subsidiary as above) and SCRG -- over the (strong) objections of Lockheed Martin, Hess Oil/HOVENSA and VIALCO. For its share, SCRG 'contributed' its judgment in the SCRG v. SCA case. The Court stated:
The public interest will be well served because the people. . .and their property will be protected from further contamination from the red mud in Area A, economic development in the South Coast Industrial Area will be fostered, and the heavy monetary litigation burdens borne by the. . .government will be reduced. Significantly, all of these benefits will begin to take place sooner rather than later if the proposed consent decree is approved.
Commissioner v. Century, et al., 2012 WL 446086 (D.V.I. February 13, 2012). The Consent Decree was signed and entered onto the docket on February 17, 2012 -- after which the Alcoa subsidiary became responsible for remediation of the portion of the site ("Area A") containing the huge hills of bauxite residue. SCRG was effectively removed from the case and shielded from liability as to all of the other parties. Lockheed Martin and VIALCO remained as defendants in the case -- with regard to a second, older disposal area on the site ("Area B") -- and allegations they caused damage to the water below and around the property.
All of SCRG's costs and attorney's fees were paid. The plant has been disassembled by SCRG. The site has been re-purposed for major tenants such as Diageo (Captain Morgan Rum) and facilities for other non-polluting activities. In 2014 the remaining defendants, primarily Lockheed and HOVENSA ended up settling with the government for more than $50 million. This contributed to the total remediation of the old waste areas by the defendants. As can be seen below, the scarred, dangerous industrial waste areas have been contoured, terraced, covered with a bio-mesh and re-planted with the oversight and advice of the EPA and DPNR. This was a victory not only for SCRG, but also for the neighbors and the entire island. As it turned out, Judge Bartle's prediction of the benefits was 100% accurate.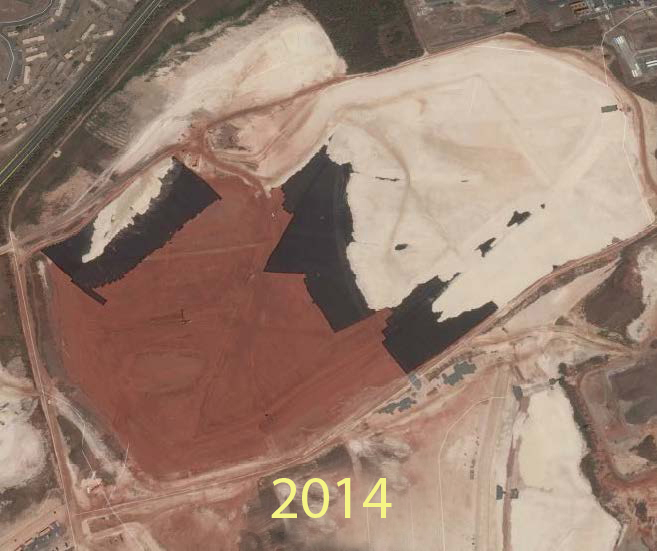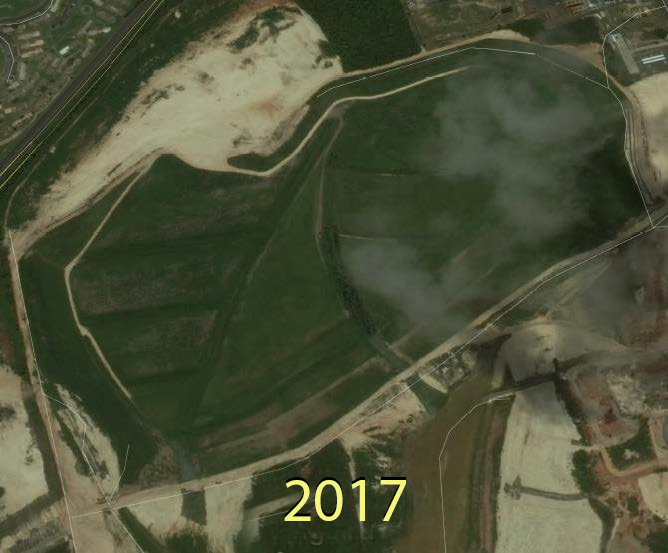 The remaining cases involve a different group of plaintiffs. There, a Petition for a Writ of Certiorari was filed (13-116) with the U.S. Supreme Court following the Third Circuit's affirmance in Abraham v. SCRG, 719 F.3d 270, (3d Cir. 2013). On September 23, 2013 the Supreme Court requested briefing from the Respondents. Reuters Article. Although the Supreme Court twice posted it for internal discussion, certiorari was denied on January 13, 2013. A state "mass action" by 459 plaintiffs was removed to federal court. The federal court then remanded back to that state court on a narrow interpretation of the Class Action Fairness Act. A discretionary petition to the Third Circuit Court of Appeals resulted in an order granting leave to appeal -- and setting an oral argument on an expedited schedule. Appellant's letter brief was submitted as was Public Justice's Opposition and the Reply. BNA Article. (However, in April 2015, the Ninth Circuit severely criticized the Third Circuit's reasoning, and it is expected that the issue will eventually be heard by the Supreme Court.)
With due respect to the Third Circuit, we do not agree with its definition of "event or occurrence" as that term is used in CAFA. We find that such a broad definition renders portions of CAFA redundant and is not supported by legislative history. . . .even were we free to interpret the phrase as we would, we would not adopt the Third Circuit's approach. In context, it is clear that the phrase "event or occurrence" was not intended to cover something like the Civil War. . . .But, in the context of determining whether a legal cause of action concerns an "event" or an "occurrence" for purposes of CAFA, the terms most commonly and reasonably refer to a singular happening. There is no reason to think that Congress intended anything else. A careful parsing of CAFA reveals no support for a broader reading of the term. . . . .Giving "event or occurrence" a broad definition tends to obfuscate the boundaries between the exceptions.
Now there are 1372 plaintiffs in 432 separate "residual" actions by nearby landowners for incidental effects (within 90 days of occurance) to their property from blowing dust--which were originally aggregated for pre-trial purposes into a consolidated proceeding on July 7, 2017, under the caption In Re Red Dust Cases. Although SCRG was a defendant, the primary targets of the actions were the former owners of the site, Lockheed, Alcoa (now Arconic) and Glencore. In August of 2018, the cases were transferred to the new Complex Litigation Division. In February 2020, that Court severed SCRG away from the other defendants, and created an action that involves limited claims from 2002-2012. As the facility has been fully remediated and these claims are limited to short-period property damage, the vast bulk of this long and successful case is drawing to an end.
2. Litigation of Database and Intellectual Property Issues
Lead trial and appellate counsel. A small electronic publisher fought a long and complex battle against the giant West Publishing -- in a landmark case which established the right of small publishers, lawyers, students and researchers to use the text of (and citations to) published judicial decisions without restrictions, and without paying fees to West. In two separate decisions, the Second Circuit affirmed federal district court decisions in favor of HyperLaw, holding that West did not have any copyright in either the judicial decisions or the citations in West's Reporters. HyperLaw alone litigated the critical "text" issue -- and was the sole plaintiff in the Southern District of New York trial before Judge John Martin. The New York Times reported this as a case "experts [say] will drive down the price of legal research....[stripping] away much of the copyright protection claimed by West Publishing, the nation's dominant publisher of court cases, for its law books."
In HyperLaw v. West Publishing VI (Appeal-Text), 158 F.3d 674, 48 U.S.P.Q. (BNA) 1560 (2d Cir. 1998) the Court of Appeals stated the following with regard to West's claims of copyright in the text of their reporters:
The district court found that the elements of the West case reports for which West seeks copyright protection lack sufficient originality or creativity to be protectable--whether considered separately or together. * * * * Our decision in this case does not mean that an editor seeking to create the most accurate edition of another work never exercises creativity. As West argues, our [prior] decisions establish a low threshold of creativity, even in works involving selection from among facts. But those cases involved the exercise of judgments more evaluative and creative than West exercises in the four elements of the case reports that HyperLaw intends to copy.
Co-plaintiff, Matthew Bender, did not participate in the portion of the case related to the text of judicial decisions. Nor did it participate in the related D.C. federal antitrust intervention against the West-Lexis secret pricing agreement that Hyperlaw uncovered. Thus, HyperLaw alone established that West and other legal publishers cannot stop (or charge for) the copying and use of the judges' decisions, citations, names of counsel and other information. Nor can West and other large publishers stop the use of those decisions by lower cost and on-line publishers who provide access to the public for free or at greatly reduced cost. While West and Lexis produce excellent products with many additions which add extra value – such as headnotes and the 'key number' indexing system -- it is no longer mandatory that one must buy those additions simply to freely copy, use or make collections of judicial decisions.
For an exhaustive description of what West claimed as its "authorship" and an analysis of the law related to those claims, it is useful to read both HyperLaw's Opposition Brief and West's Petition for Re-Hearing En Banc filed after its loss.
In the companion decision, HyperLaw v. West Publishing V (Appeal-Citation), 158 F.3d 693; 1998 U.S. App. LEXIS 28024 (2d Cir. 1998) that same Court held that West's page numbering (star pagination) and first page citations (pinpoint cites) were equally devoid of any basis for copyright.
Because the internal pagination of West's case reporters does not entail even a modicum of creativity, the volume and page numbers are not original components of West's compilations and are not themselves protected by West's compilation copyright. * * * * Because the volume and page numbers are unprotected features of West's compilation process, they may be copied without infringing West's copyright. However, West proffers an alternative argument based on the fact (which West has plausibly demonstrated) that plaintiffs have inserted or will insert all of West's volume and page numbers for certain case reporters. West's alternative argument is that even though the page numbering is not (by itself) a protectable element of West's compilation, (i) plaintiffs' star pagination to West's case reporters embeds West's arrangement of cases in plaintiffs' CD-ROM discs, thereby allowing a user to perceive West's protected arrangement through the plaintiffs' file-retrieval programs, and (ii) that under the Copyright Act's definition of "copies," 17 U.S.C. § 101, a [**14] work that allows the perception of a protectable element of a compilation through the aid of a machine amounts to a copy of the compilation. We reject this argument for two separate reasons.
In expressly dismissing the 8th Circuit's pre-Feist decisions in West Publishing Co. and Oasis as controlling, the Court stated
The Eighth Circuit in West Publishing Co. adduces no authority for protecting pagination as a "reflection" of arrangement, and does not explain how the insertion of star pagination creates a "copy" featuring an arrangement of cases substantially similar to West's--rather than a dissimilar arrangement that simply references the location of text in West's case reporters and incidentally simplifies the task of someone who wants to reproduce West's arrangement of cases. It is true that star pagination enables users to locate (as closely as is useful) a piece of text within the West volume. But this location [**36] does not result in any proximate way from West's original arrangement of cases (or any other exercise of original creation) and may be lawfully copied.
As the federal trial judge who heard both issues (Martin) commented,
Judicial opinions are a highly sought-after commodity in the legal, literary, and news markets. Hyperlaw's action in this case served the public good because West was maintaining a monopoly over the market for judicial opinions based on a tenuous copyright claim. West was not the author of an original work seeking only to prevent another from making fair use of a portion of a work it had authored. West was attempting to use the fact that it had made inconsequential modifications to judicial opinions to maintain a monopoly in the publication of those opinions. Thus, rather than invoking the Copyright Act as a shield to protect legitimate creative work, West used it as a sword to perpetuate a monopoly over important government works.

* * * *


When David vanquished Goliath, the Israelites rewarded him by making him their King. While Hyperlaw's vanquishing of West's monopoly over judicial opinions may be far less impressive, all it asks for its efforts is that it be reimbursed for the substantial legal fees West forced it to incur in order to vindicate the public's right of access to judicial opinions. It prevailed against an adversary that did all that it could to make this litigation as expensive as possible, no doubt hoping that a small company such as Hyperlaw would not stay the course. In these circumstances, the court continues to be of the view that Hyperlaw is entitled to an award of the entirety of its attorneys' fees.
HyperLaw persisted -- in what that same judge repeatedly referred to as "litigation which threatened to leave whole forests bare because of the size and number of pleadings."
MR. HARTMANN: Your Honor, I would like to call Ms. Donna Bergsgaard as our first witness please.

DONNA BERGSGAARD, called as a witness by the Plaintiff, having been duly sworn, testified as follows:

DIRECT EXAMINATION BY MR. HARTMANN:

MR. HARTMANN: Your Honor, we prepared binders of 18 exhibits which your Honor has. May I approach the witness? Ms. Bergsgaard, I am providing you with two binders, one of them labeled Plaintiff Hyperlaw's Trial Exhibits 1 through 7 and the second is --

THE COURT: It looks like another case in which I should have required the filing of an environmental impact statement.